View Ebay Order
To view imported from eBay Order please navigate throw menu Catalog->eBay->Orders and then click on action "View".
On the opened page you will see all information related to ebay sale. Information on the page is very similar to the one you can get in PrestaShop Order.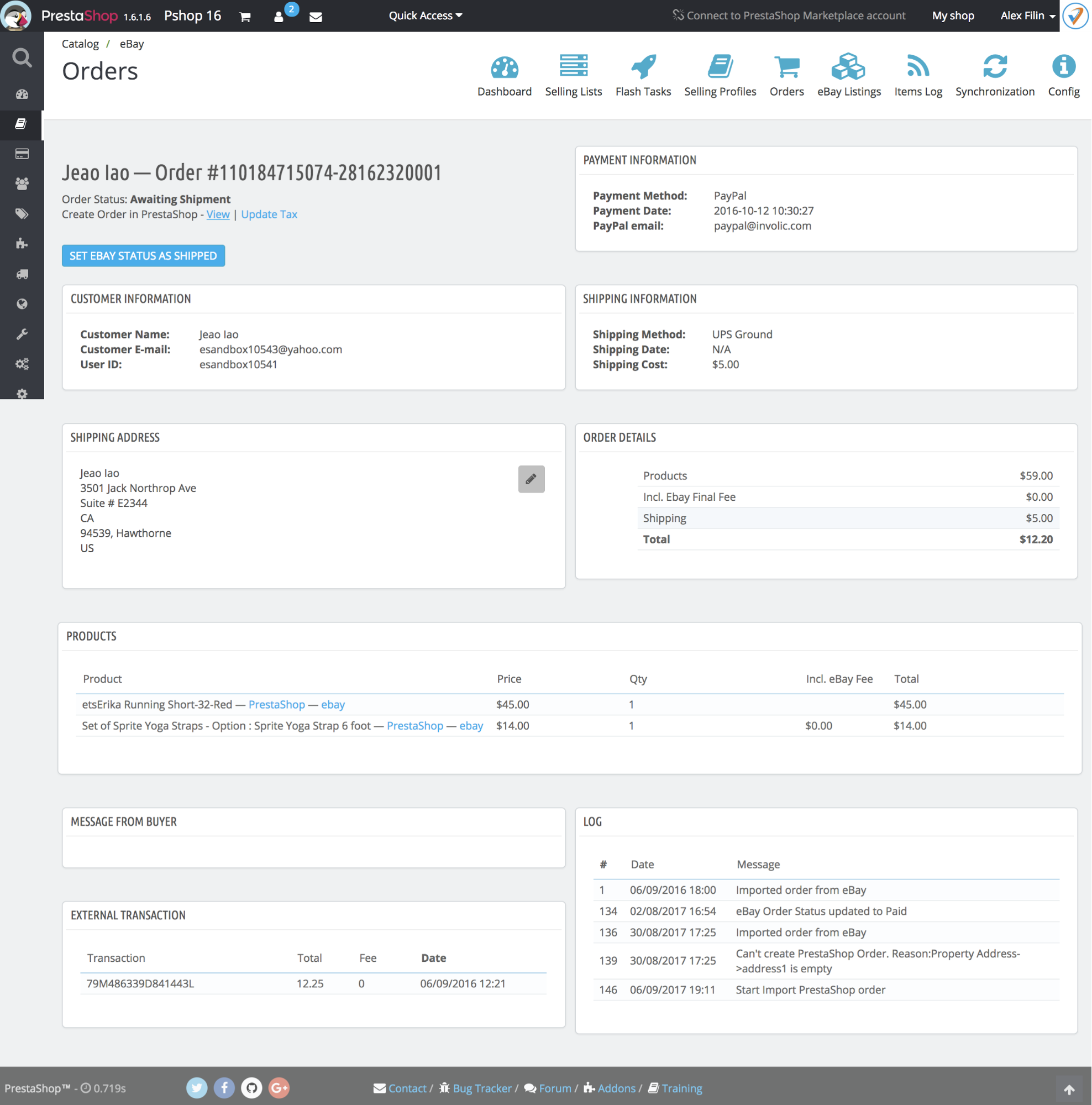 General Order Information — located on the top left corner of the page. This block show information about the eBay order number and regarding a connected PrestaShop order. Here you can also control ebay order status.
Create PrestaShop Order — will create new order into the PrestaShop order section. You can see this button only if connected PrestaShop product is found for an order.
Set eBay Sales as Paid — send a request to eBay to update the status of sales to Paid. Displayed when for current order payment is not yet completed.
Set eBay Sales as Shipped — will send a request to eBay to mark a current order as Shipped. Shown only when shipping is not sent yet.
NB! If you change the status for connected PrestaShop Order module will also send a request to eBay to update status as well. By selecting PrestaShop order status as the "Payment accepted" module will send to eBay request to mark related sales as complete payment. Same work for PrestaShop order status "Shipping Completed"
Payment Information — display information about eBay Payment details. Showing payment method, date and time of payment, seller PayPal email if data are available.
Customer Information — expose information about eBay customers. This information includes the customer name, email, and user id.
Shipping Information — provide information about shipping selected by ebay buyer. This includes a method, time and cost for delivery
Shipping address — show information where the item needs to be shipped. The module give you the possibility to modify this data. To modify data please click on "Edit" Icon
Order details — full summary of eBay orders cost, including Ebay Final Fee and Tax information if available
Products — show products that related to orders. Every product has link to see connected ebay listings and connected PrestaShop products if this connection can be established.
Message from Buyer — display checkout message from eBay customer. This field also imported into the PrestaShop order.
External Transaction — block with external transactions that happens to order. Very often this block display payment transactions. eBay refund display as a negative value.
Log — detailed information about action with selected eBay sales including transferring Tracking codes and status change.